Community Spotlight: 350 Bakery

The 350° Bakery wants its customers to know that it puts the good stuff into its sweet and savory treats, so you know what's going in your body. From using only cage-free produced eggs, to using locally produced fruits and vegetables, to using hormone-free milk, 350° Bakery starts with good ingredients before it makes it taste good. Obviously, however, taste is important at 350° Bakery. Try to say "flaky pies" and "fudgy brownies" without your mouth starting to water.
Some of Their Favorites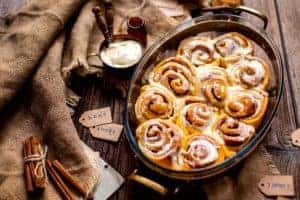 350° Bakery also makes its own sticky buns, a Pennsylvania Dutch tradition, as well as oatmeal creme pies, scones, and hand pies. Hand pies, which are found in some form all over the world, are made with a circular piece of pastry dough, filled with sweet (such as blueberry rhubarb) or savory (including Indian-style samosa) filling, and folded over and crimped. 350° Bakery carries its own buttermilk biscuits, which come plain or with everything, and bacon cheddar scallion savory scones.
Triple-layer Cakes
350° Bakery also has 10 varieties of triple-layer cakes, including well-known favorites such as carrot cake and classic red velvet, but they also produce a chocolate peanut butter fudge cake, mocha cappuccino cake, and chocolate salted caramel. There are also five varieties of cheesecake, including triple chocolate, strawberry pretzel, and raspberry lemon. There are also a variety of shortbread treats available. Next birthday celebrations, be sure to get a cake for you and your guests to enjoy!
What Do They Do?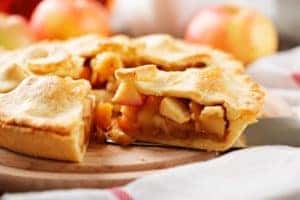 350° Bakery has a conveniently located shop, open on the weekends, where you can get a biscuit sandwich or an entire pie. Mainly, however, 350° Bakery focuses on wholesaling its baked goods in any number of area coffee shops, catering events, or even taking personal orders, such as cakes or cupcake tiers for special occasions such as weddings, baby showers, or any other event. 350° Bakery specializes in catering a "hearty" breakfast for morning events.
Who They Are
The 350° Bakery began with Barb Reale and Janie Crawford baking out of another business's kitchen. Neither Reale nor Crawford had any formal education in baking — they were middle school friends who both ended up in Pittsburgh for college. Starting out by making cookie trays, Reale's employer asked them to start making the desserts for the business, and in a couple of years they picked up their first commercial client.
In 2017, they opened their location in the South Side Slopes section of Pittsburgh, and they have been able to grow and hire staff since then. 350° Bakery is now a wholesale supplier for 19 locations in the city. The store is open on weekends for walk-in clients, and they take orders for pick-up throughout the week.
Order for the Weekend
Order from 350° Bakery today and come pickup up all your favorite baked goods and desserts to enjoy with family and friends this weekend!
You can also keep up with the latest happenings at 350° Bakery by following them on Facebook and Instagram.