2021 CHEVY TRAVERSE GAS MILEAGE

The 2021 Chevy Traverse gas mileage is up to an EPA-estimated 18 city/27 highway MPG, depending on your powertrain configuration. As a full-size, 3-row SUV, these are some impressive specs that can help you limit your stops at the pump during those extended stretches behind the wheel.
If you're looking for an SUV with room for the whole family—and then some—that also sips on fuel, then the Traverse has what you need for your drives through Wexford, Pittsburg, and Cranberry Township, PA. Contact us to give it a try today!
Powertrain and Gas Mileage: 2021 Chevy Traverse
When you're considering gas mileage, the powertrain makes all the difference. Fortunately, the 2021 Traverse comes equipped with an efficient powertrain and innovative features to help it conserve fuel without sacrificing performance.
Starting with the basics, this is what comes standard:
3.6L V6 engine
310 horsepower
266 lb-ft of torque
As you can see, this Chevy SUV packs quite a punch with an output of 310 horsepower and 266 lb-ft of torque. On top of that, the engine is paired with a 9-speed automatic transmission with overdrive and Driver Shift Control.
While Driver Shift Control puts you in command of your shift schedule when you want to experience a limited manual mode, overdrive helps your Traverse improve fuel efficiency by allowing the engine to operate at a lower RPM.
Fuel-Sipping Engine Technologies
Even better, this robust powertrain comes standard with Automatic Stop/Start technology, which helps it save even more fuel—especially during city drives. During idling periods, such as when you're at a red light, this technology automatically shuts off the engine for you. Let go of the brake and the engine will seamlessly fire back up, so you don't miss a beat.
Traverse Gas Mileage by Drivetrain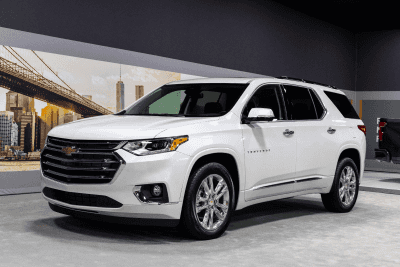 Engine specs can have quite the impact on your SUV's overall fuel economy. Drivetrain is just as important to consider, though. Take a look at how gas mileage varies based on the drivetrain below:
Front-Wheel Drive (FWD): EPA-estimated 18 city/27 highway MPG
All-Wheel Drive (AWD): EPA-estimated 17 city/25 highway MPG
As you can see, standard FWD helps to push your SUV's fuel efficiency up just a tad, achieving an EPA-estimated 18 city/27 highway MPG. However, many Pennsylvania drivers prefer an SUV with AWD due to unpredictable weather and roadway conditions.
The 2021 Chevy Traverse is available with a smart AWD system that actively adapts to changing roadway conditions, so that you can travel along a sunny countryside, a gravel parking lot, and a snowy highway with relative ease and security.
How does it work? During low-traction conditions, like rain, sleet, and snow, it sends half the engine torque to either front wheel and as much as 85% to either rear wheel. You shouldn't lose grip when you need it the most.
The AWD system is part-time, too. This means that you can turn it on and off as you need it. So, if the road is dry and the skies are sunny, turn off AWD and enjoy a slightly improved gas mileage. When it starts to snow or rain, switch to AWD for improved traction control.
Tow More Efficiently With Your Chevy SUV in Pennsylvania
If you're driving a full-size SUV—like the 2021 Chevy Traverse—through Western Pennsylvania, the fun really kicks in when you set out on that exciting family vacation. Whether you're towing a boat up to the lake or taking an ATV out on your next hunting trip, the Chevy Traverse can help you get the job done.
When properly equipped, the 2021 Chevy Traverse can tow up to 5,000 pounds.
Even better, it can do so without taking a hit to its gas mileage. The Traverse comes with an available Driver Mode Selector that allows you to choose between up to four different modes, based on your needs and road conditions. These modes are:
Front-Wheel Drive
All-Wheel Drive
Off-Road
Tow/Haul
When in Tow/Haul mode, your Traverse stays in a lower gear, offering more torque while pulling a trailer. This allows you to get moving with greater ease, so that you don't spend as much fuel while towing something heavy behind you.
Tips for Efficient Driving
Of course, the way your Traverse is built can have a noticeable impact on its gas mileage, but it's not the only factor that affects how many miles you drive per gallon. There are also several efficient driving techniques that you can adopt when out on the road to help you improve fuel economy. Some of these are:
Accelerate Gently
It takes more fuel to accelerate quickly. Instead of rushing to go once the light turns green, finesse the accelerator pedal to get moving gently.
Stick to a Steady Speed
Quick changes in speed can take a toll on your fuel efficiency. When travelling on the highway, use cruise control to keep your speed steady.
Avoid Frequent Emergency Braking
Just as a fast start can drain your fuel tank, so can a quick stop. Maintain a safe driving distance from other vehicles to avoid emergency braking and slow to a steady stop at traffic lights.
Schedule Routine Maintenance
Having low tire pressure and dirty engine oil can impact your SUV's fuel efficiency. Schedule regular maintenance at our service center to make sure that your Traverse is in top shape the next time you hit the road.
Test Drive a 2021 Chevy Traverse With Us
Solid gas mileage isn't the only great thing about the 2021 Chevy Traverse. It also brings Wexford, Pittsburgh, and Cranberry Township, Pennsylvania, drivers plenty of great technology and safety features. Read the rest of our Chevy Traverse reviews to learn more about all of its features.
Want to see everything this SUV has to offer? Contact Baierl Chevrolet online or over the phone to schedule your Traverse test drive today!