---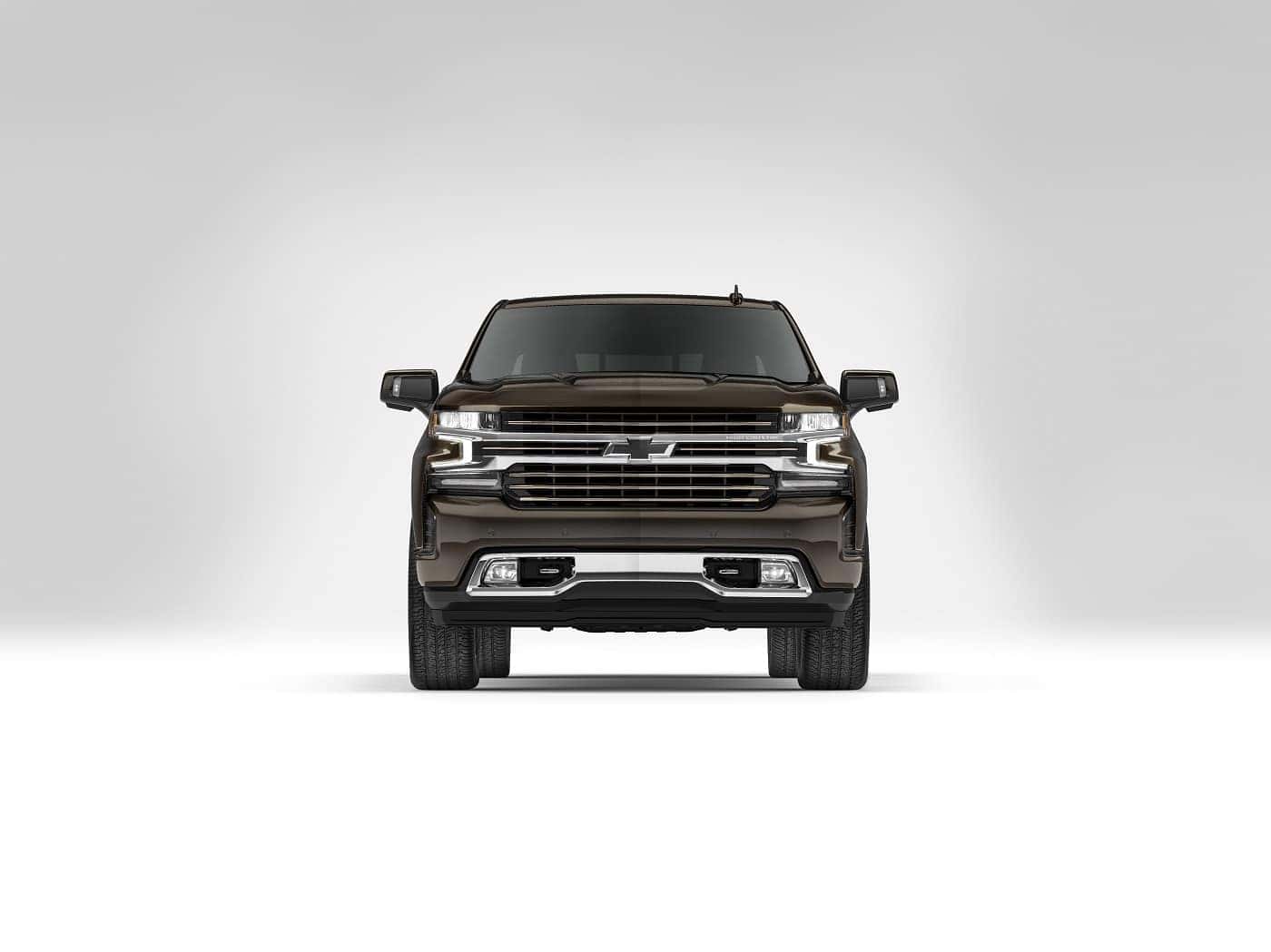 Chevy Silverado vs Nissan TITAN: Engine Specs
When it comes to your truck, you need a lot of power, and both the Chevy Silverado and Nissan TITAN deliver. They both have an available V8 engine that really brings the heat when it's time to show some real strength.
The Nissan TITAN comes with a 5.6L V8 engine that produces 400 horsepower and 413 lb-ft of torque. It pairs with a 9-speed automatic transmission. The Chevy Silverado, on the other hand, has an available 6.2L V8 engine that generates the following specs:
420 horsepower
460 lb-ft of torque
This mighty engine needs an additional gear to harness all its power, which is why it pairs with a 10-speed automatic transmission. The Chevy also has four additional engines available: an additional V8 engine, a V6 engine, an I-4 engine, and a diesel I-6 engine.
The Nissan TITAN, unfortunately, only has the one engine option, so drivers may not feel that they have as much of an opportunity to pick a powertrain that suits their unique needs.
---
Towing Capability: Silverado and TITAN
With engines that produce so much power and torque, it's no surprise that they both come with an impressive towing capacity. Due to this, you can expect an impressive performance from both the Chevy and Nissan. You can see their maximum towing capabilities here:
Chevy Silverado maximum towing capacity: 13,300 pounds
Nissan TITAN maximum towing capacity: 11,040 pounds
As you can see, both pickups can tow more than 11,000 pounds, but the Chevy edges out the Nissan with its 13,300-pound towing capacity when properly equipped. The Chevy Silverado also has the Advanced Trailering System, which allows you to adjust your truck's powertrain and suspension based on the type of trailer you're pulling.
Still, both trucks make it easy to hitch up and hit the road with their standard rearview cameras. Simply switch your truck into reverse and you'll see a live video feed of the area directly behind you appear on the screen in the center stack.
Both vehicles give you a close-up view of your hitch as well as dynamic guidelines that allow you to align your hitch and trailer for easy hookup. So, while the Chevy Silverado may allow you to tow more overall, both trucks make hitching up simple.
---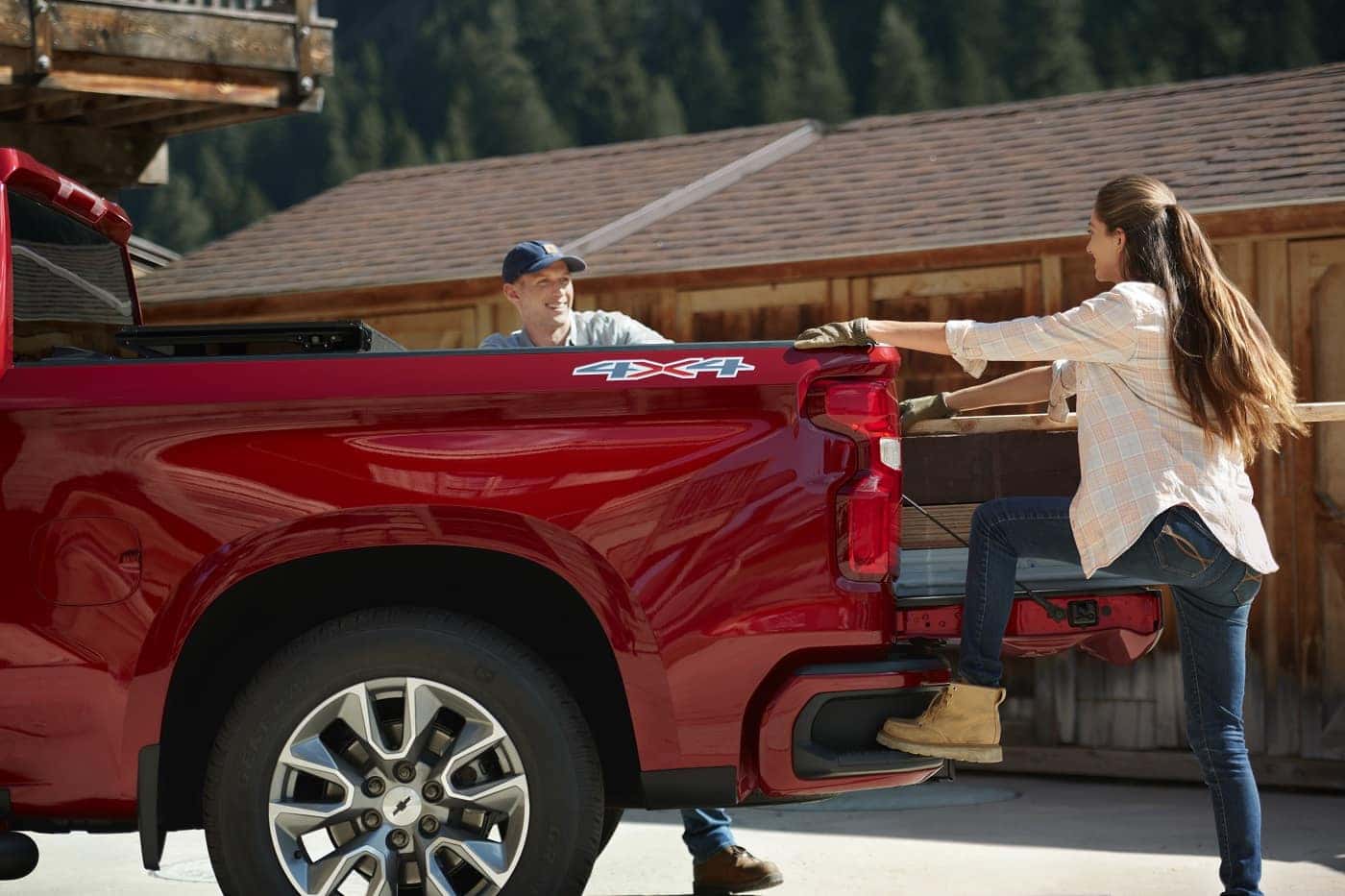 Chevy Silverado vs Nissan TITAN: Payload Capacity and Cargo Bed
When you're driving a pickup truck, if you're not towing, you're probably carrying something in your bed. So, you need to be able to carry plenty of weight. As you'll see with the Chevy Silverado and Nissan TITAN, both vehicles offer comparable payload capacities:
Chevy Silverado payload capacity: 2,280 pounds
Nissan TITAN payload capacity: 2,390 pounds
However, once everything is all loaded up, both trucks allow you to lock your tailgate with the simple press of a button on the key fob.
The Chevy also has an available Multi-Flex Tailgate, which allows you to lower and raise your tailgate with just the push of a button. The TITAN, unfortunately, only offers a manual tailgate, which may make storing items a little harder.
As for how much cargo you can carry, both the Chevy and Nissan give you configurable options. The Nissan TITAN has two different bed lengths for you to pick from. The Chevy Silverado offers three bed options, which gives you even more opportunity to meet your exact needs. With its longest bed, the Silverado can carry a maximum cargo volume of 89.1 cubic feet.
---
Chevrolet Silverado 1500 vs Nissan TITAN: Safety
Trucks rule the road, but that doesn't mean they should compromise on safety. Both the Chevy Silverado 1500 and Nissan TITAN have available features that alert you to the road around you, helping you to stay safe.
Some features that are either standard or available for both trucks include:
Automatic Emergency Braking
Forward Collision Alert
Lane Keep Assist with Lane Departure Warning
They also both have front and rear parking sensors that can alert you to when you're getting too close to another car in front of or behind you. This is especially useful when you're trying to parallel park during your journeys downtown.
Another feature they both offer is Adaptive Cruise Control. This system maintains a safe distance from the vehicle ahead of you. The Chevy truck also has Lane Change Alert, which takes the extra step to alert you to vehicles that aren't even in your blind spot yet. If a car is approaching your intended lane too quickly to allow for safe merging, your Silverado will let you know.
If you prefer tactile alerts over visual and auditory alerts, then you may prefer the Silverado. This truck comes with an available Safety Alert Seat that issues certain driver-assistive warnings through vibrations in your driver's seat.
Unfortunately, the Nissan doesn't offer a similar feature for drivers who prefer a more physical alert system.
---
Choose Your Pickup to Drive Around Pennsylvania
Now that you've seen how the Chevy Silverado and Nissan TITAN match up, which of these mighty trucks will you drive around Pittsburgh, Wexford, and Cranberry Township, PA? If you prefer a pickup with a higher towing capacity, advanced driver-assistive technologies, and ample cargo volume, then you may prefer the Chevy.
To try it out for yourself, contact the team at Baierl Chevrolet and we'll answer all your questions about this truck and help you choose the right configuration for you. Then, we'll get you behind the wheel. To get things rolling, contact us and schedule your test drive of the Chevy Silverado today!
---